Miraculous Invocation to St. Therese (St. Therese Miracle Prayer)
Hey there! Some links on this page are affiliate links which means that, if you choose to make a purchase, we may earn a small commission at no extra cost to you. Thank you for supporting Beauty So Ancient, and Catholic businesses!
Many pray this St. Therese Miracle Prayer, also called the Miraculous Invocation to St. Therese because of our certainty that we have recourse to St. Therese for her intercession.
Romans 8 says:
"Death does not separate the family of God and the love of Christ. We are still united with each other, even beyond death."
St. Therese, herself, said:
"When I die, I will send down a shower of roses from the heavens, I will spend my heaven by doing good on earth."
How amazing is that?
Pray this St. Therese Miracle Prayer whenever you need her intercession. Many have reported receiving roses as a sign that she has heard the prayer.

In fact, here is a story of someone being showered with roses.

Whether you receive flowers or not, please know that she is listening and happy to intercede!
---
MIRACULOUS INVOCATION TO ST. THERESE (St. THERESE MIRACLE PRAYER)


O glorious Saint Therese, whom almighty God has raised up to aid and counsel mankind, I implore your Miraculous Intercession. So powerful are you in obtaining every need of body and soul our Holy Mother Church proclaims you a "Prodigy of Miracles…the Greatest Saint of Modern times."
Now I fervently beseech you to answer my petition (mention here) and to carry out your promises of spending Heaven doing good upon earth…of letting fall from Heaven a Shower of Roses.
Henceforth, dear Little Flower, I will fulfill your plea" to be made known everywhere" and I will never cease to lead others to Jesus through you. Amen.

O Little Therese of the Child Jesus,
please pick for me a rose from the heavenly gardens
and send it to me as a message of love.

O Little Flower of Jesus,
ask God today to grant the favors
I now place with confidence in your hands….

(mention specific requests)

St. Therese, help me to always believe,
as you did, in God's great love for me
so that I might imitate your "Little Way" each day.

Amen.
---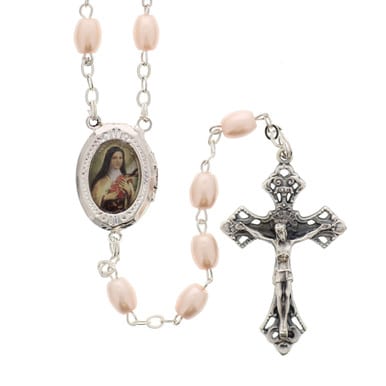 ---
St. Therese Books
---
See also