St Patrick Cathedral's First Latin Mass in Almost 20 Years
Hey there! Some links on this page are affiliate links which means that, if you choose to make a purchase, we may earn a small commission at no extra cost to you. Thank you for supporting Beauty So Ancient!

As much as we can, we will link to Catholic businesses. Thank you for supporting our brothers and sisters in the faith!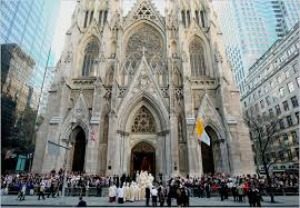 New York's St Patrick Cathedral's First Latin Mass in Almost 20 Years
St Patrick Cathedral's first Latin Mass in almost 20 years, is going to happen.
Now if you haven't fainted yet, let me go on to say what a tremendous feat this is.
Needless, to say my mouth dropped when I received a flyer while exiting my parish after Mass.
St Patrick's Cathedral is one of the top tourist sites in the world.  As a New Yorker, I've only been there a few times for two reasons: 1) It is beautiful, but huge, and I prefer a cozier church; and 2) I have attended the Latin Mass as long as I've been a Catholic, and it has never had a Latin Mass during this time.
This is "yooge"!
You see, since the Second Vatican Council (Vatican II), rocked the world with the liturgical changes that followed, the Catholic Church abandoned it's beautiful, timeless liturgy for one that was more ecumenical and palatable to the modern world.  However, traditional societies of priests such as the SSPX and FSSP, continued to offer the Traditional Latin Mass.
Thank you Pope Benedict Emeritus!
In 2007, then Pope Benedict XVI, released Summorum Pontificum, which stated that the Latin Mass had never been abrogated or done away with. This was a boon to priests who offered Latin Masses. They would no longer be punished for desiring a Latin Mass (theoretically). Also, the faithful who were attached to the Mass would be able to request it at their own parishes, without having to travel for 3 hours.
Yet, St Patrick never had a Latin Mass until now.
On Monday, November 14, at 7 PM, St Patrick's Cathedral will have it's first Latin Mass in almost 20 years!
Kudos to the Traditional Councils of the Knights of Columbus, Regina Coeli (#423) and Agnus Dei (#12361), for requesting the Latin Mass.  A big thanks to Cardinal Dolan, who gave the okay.
I encourage the faithful who normally attend traditional Latin Masses to clear your calendar and come and support this Mass.
If you have never attended a Latin Mass, wouldn't it be great to experience the beauty and reverence of the Latin Mass at St Patrick's Cathedral?
If the attendance is great, who knows? This might even become a regular thing.
---
Details
Monday, November 14th, 7:00 PM
Solemn Votive Mass (Our Lady of Mercy)
St Patrick's Cathedral
Fifth Avenue, at 51st Street
New York, NY
***To download or print the flyer, please click on the arrow to the right***
[pdfviewer width="600px" height="849px" beta="true/false"]https://www.beautysoancient.com/wp-content/uploads/2016/10/st-patrick-cathedral-first-latin-mass.pdf[/pdfviewer]