St Michael the Archangel Prayer In Latin and English (Short Form)
Hey there! Some links on this page are affiliate links which means that, if you choose to make a purchase, we may earn a small commission at no extra cost to you. Thank you for supporting Beauty So Ancient!

As much as we can, we will link to Catholic businesses. Thank you for supporting our brothers and sisters in the faith!
The St. Michael the Archangel prayer is a powerful prayer that every Catholic should know by heart. It is prayer that it is especially needed in the times we are living in. There are enemies outside and within, who would like nothing more than to destroy the Church and to wipe all traces of Christianity from the planet.
There are many prayers in Latin for protection, but the St. Michael prayer is very efficacious, because St Michael, through the power of God, is singularly qualified to take care of the devil and his demons. After all, through the power of God, he cast Satan out of heaven when he rebelled against God.
In the same way, worldly powers of today are proud enough to actually believe they can destroy the Church, and the Kingdom of God. Their beliefs are reinforced when Church leaders capitulate and reaffirm their evil beliefs. These leaders don't understand that when we resist Satan, we become stronger and he and his demons grow weaker.
Pray the prayer anytime you feel you are in danger or if you feel particularly oppressed by evil influence. Pray for St Michael's intercession. He will protect you.
Pray the St. Michael prayer when you are faced with temptations of sins against purity. St Michael can help us not only with physical danger but spiritual danger. In fact he can help us resist all the wiles of the devil.
You can be sure the devil will flee if you beg St Michael for his intercession. Pray the St Michael prayer, when your kids are being rebellious, and have abandoned God. Pray this prayer when your marriage is in trouble or when you are feeling depressed.
It is said that "the Devil hates Latin." This is why it's also important to learn to pray the Latin Prayer to St. Michael the Archangel. There is something powerful about praying this latin prayer for protection in a "dead" language that cannot change – a beautiful, ancient language.
As Catholics, we have resource to the Saints who will intercede for us if we but ask. As powerful an angel as St Michael is he is also, tender and ready to fight Satan and his minions on behalf of God's people.
We can't fight the devil alone, as we are only human, but with God's help and the intercession of St Michael, we can overcome any influence from the devil.
---
St. Michael Bronze Finish Statue, 14″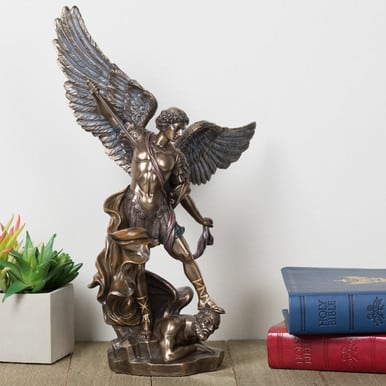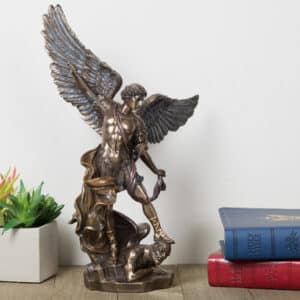 ---
St Michael Prayer In Latin
The Best Latin Prayer for Protection
Sancte Michael Archangele, defende nos in proelio, contra nequitiam et insidias diaboli esto praesidium. Imperet illi Deus, supplices deprecamur: tuque, Princeps militiae caelestis, in virtute Dei, in infernum detrude satanam aliosque spiritus malignos, qui ad perditionem animarum pervagantur in mundo. Amen.
---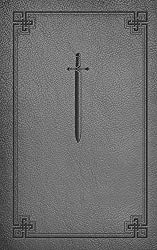 ---
Saint Michael Prayer in English
Saint Michael the Archangel, defend us in battle, be our protection against the wickedness and snares of the devil. May God rebuke him, we humbly pray; and do thou, O prince of the heavenly host, by the power of God, thrust into hell satan and all the evil spirits who prowl about the world seeking the ruin of souls. Amen..
Resources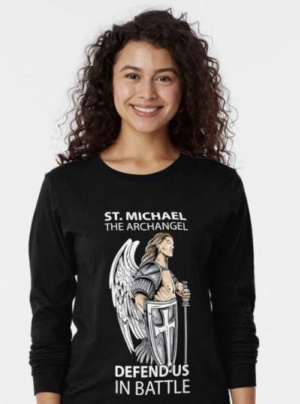 See Also
---
St Michael Prayer Sung in Latin