Stressing Over Exams? Pray These Prayers to St Joseph of Cupertino For Success in Exams
Hey there! Some links on this page are affiliate links which means that, if you choose to make a purchase, we may earn a small commission at no extra cost to you. Thank you for supporting Beauty So Ancient!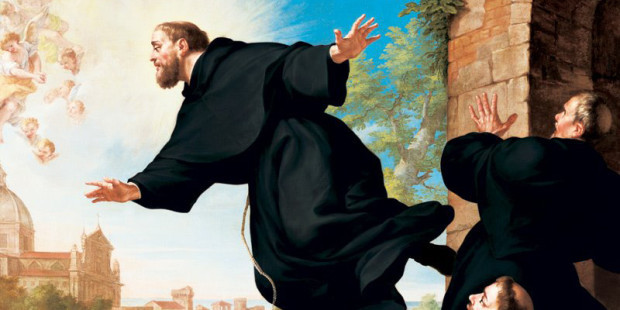 Wonderful Testimonies of St Joseph of Cupertino's Intercession!
2021 Update: What a pleasure to see all the testimonies on this page!, Through the Intercession of of St Joseph of Cupertino, there have been tons of successful exam outcomes. Keep the comments coming! Ora Pro Nobis S. Josephi di Cupertino!
---
St Joseph of Cupertino is the last Saint you would expect to pray to for success in exams. He was never known to be the sharpest knife in the draw.
So Then, Why Should We Pray to St Joseph of Cupertino For Help With Exams?
How did St Joseph of Cupertino become the patron saint of test taking? It's an interesting story.
St Joseph of Cupertino was what people used to call "slow" before the era of political correctness.
Early on in his life, he was anything but a success.
St Joseph of Cupertino described the Saint this way:
"He was absent-minded, he was awkward, he was nervous; a sudden noise, such as the ringing of a church-bell, would make him drop his schoolbooks on the floor. He would sit with his companions after school-hours, and try to talk like them, but every time his conversation would break down; he could not tell a story to the end, no matter how he tried. His very sentences would stop in the middle because he could not find the right words. Altogether, even for those who pitied him, and wished to be kind to him, Joseph was something of a trial." .

Source: EWTN
No one wanted to be his friend. Even his mom was ashamed of him and gave him lots of grief.
One day something happened that changed St Joseph of Cupertino's life. A friar came into the village begging for bread.
St Joseph thought to himself, " I might be horrible at everything, but surely I am good at begging for bread".
And thus his journey began with the Franciscan Friars.
---
His Life With the Friars & Ordination to the Priesthood
Even after being admitted to the Order, St Joseph of Cupertino had a difficult time.
However, despite his mental shortcomings, and constant ribbing and abuse from his fellow friars, God granted him many favors.
To the shock of his confreres, who thought he would never aspire to the priesthood, he became a priest.
At seminary, it came time for him to take his final exams, the examiner asked St Joseph of Cupertino a question on the only Biblical text that he knew by heart and that he loved to expound upon.
"His superiors set him to his studies, in the hope that he might learn enough to be ordained, but the effort seemed hopeless. With all his good intentions he learnt to read with the greatest difficulty, and, says his biographer, his writing was worse. He could never expound a Sunday Gospel in a way to satisfy his professors; one only text seemed to take hold of him, and on that he could always be eloquent; speaking from knowledge which was not found in books. It was a text of St. Luke (xi, 27): "Beatus venter qui te portavit." Nevertheless he succeeded in being ordained, and the story of his success is one of those mysteries of grace, repeated in the lives of other saints, down to that of the Cure d'Ars in the last century, by which Christ Himself lets us see that for His priesthood He chooses "whom He will Himself," no matter what regulations man may make." Source:

EWTN.
Is this not true favor from the Lord?
---
F A Dumont Sterling Silver St. Joseph of Cupertino Pendant with 24″ Stainless Steel Heavy Curb Chain. Patron Saint of Pilots/Airforce
---
St Joseph of Cupertino's Holy Life
St Joseph of Cupertino went on to perform lots of miracles and could be seen levitating constantly.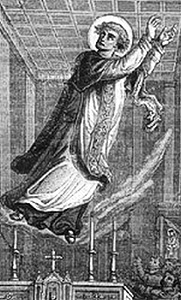 This is why he is known as the "flying monk".
The Traditional Breviary tells us "He chastised his body with a hair-shirt, with scourgings and all kinds of austerities, and nourished his spirit continually with the food of holy prayer, so that he was called by God to the highest degree of contemplation. Outstanding for obedience and poverty, he cultivated chastity above all, and preserved in unharmed, conquering great temptations. He honoured the Virgin Mary with a wonderful love and shone for his great charity toward the poor. His humility was so deep that he thought himself a great sinner and earnestly prayed God to take away the remarkable gifts he had been given. He journeyed through many places at the command of the superior of the Order and of the holy Inquisition; finally, at Osimo in Piceno, in the sixty-first year of his age, he made the last journey, to heaven."
So you see, those who need a little extra help because of an upcoming exam, have recource to St Joseph of Cupertino, the patron saint of students and test taking.
And now, two very efficacious St Joseph of Cupertino prayers for exams
---
Prayers to St Joseph of Cupertino, Patron Saint of Test Taking, For Success in Exams
First Prayer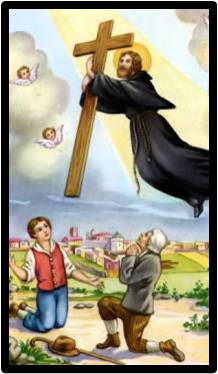 O Great St. Joseph of Cupertino who while on earth did obtain from God the grace to be asked at your examination only the questions you knew, obtain for me a like favour in the examinations for which I am now preparing. In return I promise to make you known and cause you to be invoked.
Through Christ our Lord.
St. Joseph of Cupertino, Pray for us.
Amen.
Second Prayer
O St. Joseph of Cupertino who by your prayer obtained from God to be asked at your examination, the only preposition you knew. Grant that I may like you succeed in the (here mention the name of Examination eg. History paper I ) examination. In return I promise to make you known and cause you to be invoked.
O St. Joseph of Cupertino pray for me
O Holy Ghost enlighten me
Our Lady of Good Studies pray for me
Sacred Head of Jesus, Seat of divine wisdom, enlighten me.
---
Want More Traditional Catholic Prayers?
---
Find out more about St Joseph Cupertino and other Saints
Recommended Books
---
St Joseph of Cupertino Movie – How to Watch
There is a wonderful movie about St Joseph of Cupertino called the Reluctant Saint.
You can watch it watch if for free on YouTube below.
You can purchase the "Reluctant Saint" DVD format here.
And since 17% of Americans still use VCRs, you can purchase it in VHS format here.
Enjoy!
---
The Reluctant Saint- The Story of St Joseph of Cupertino on YouTube