Racism Among Traditional Catholics on Facebook – Say It Isn't So – Part II
Hey there! Some links on this page are affiliate links which means that, if you choose to make a purchase, we may earn a small commission at no extra cost to you. Thank you for supporting Beauty So Ancient, and Catholic businesses!
Racism Among Traditional Catholics – Part Deux
Update: August 2017
With the recent news events, I thought I'd update my experience, discussed in the post below from 2016.
This is not a popular topic among white-American Catholics. In fact, you are called racist for trying to be "divisive". However, I think it is a conversation we should continue to have.
I continue to see comments from Traditional Catholics celebrating "white pride" and threads that imply Catholicism is somehow linked to Nationalistic thought.
So things haven't changed that much, unfortunately.
What has been your experience?
---
July 2016
It has been a little while since I wrote Racism Among Traditional Catholics on Facebook – Say It Isn't So – Part I.
I wanted to update you guys on my experience since then.
As an administrator of a Facebook group, I somewhat regularly experience anger from some of the more rowdy (okay, I'll be nice and say "enthusiastic") members whenever I moderate a situation in a way they don't like. Some of these members would get so angry, they would storm off and leave the Facebook group, but not before hurling a racist insult.
I am happy to say that I have not experienced any racist slurs that since I last wrote this article – just the anger – thanks be to God!
Before I start, let me post this disclaimer: I am in no shape or form implying that most trads on Facebook are racist. I know I will get comments claiming that's what I am saying. I am only speaking of a fringe – but a very vocal fringe. This fringe has convinced me that racism among traditional Catholics exist. Secondly, I am so thankful for my own parish, which is very racially diverse. If I didn't have such a good experience at my parish, I would mistakenly believe that trad Catholics are racist because of my online experience.
What I have been noticing lately, is that there is an in increase in what is being billed as a "nationalist" movement, which oftentimes is nothing more than a crypto, white supremacist movement. According to the Merriam-Webster, nationalism is defined as "loyalty and devotion to a nation; especially : a sense of national consciousness exalting one nation above all others and placing primary emphasis on promotion of its culture and interests as opposed to those of other nations or supranational groups." White nationalism, is a subgroup that advocates a racial identification of national identity (the white nation).
You might ask what does white nationalism have to do with Catholicism? Good question. These same people are against race mixing and believe God created the different races to stay separate in their own countries and only come together for things like trade. They do not like the dilution of races. So somehow, they have convinced themselves it is perfectly Catholic to think that way. They also post about the glory days of the South, when there were beautiful plantations – although they stop short of wishing for the slaves to work those plantations.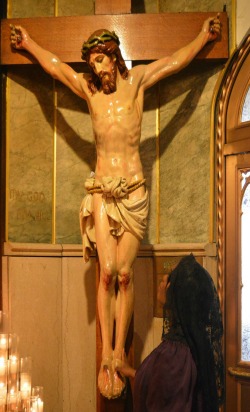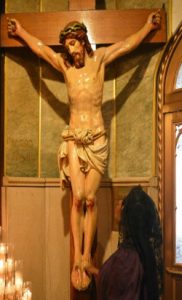 I'm still trying to figure out if the fact that I'm meeting this fringe is a result of my being exposed to people in more remote parts of the U.S? It's shocking to me, because although there are racists where I live, most people know better than to be forthright about it. So maybe I am interacting more with the global world in all it's loveliness and ugliness and it's not something I'm used to. However, I also have to ask if there is something about the mindset of a Latin Mass Catholic that makes him prone to this kind of thinking? What do you think?
By the way, just in case you think I'm making this racist stuff up, a friend of mine recommended this book to me: Desegregating the Altar: The Josephites and the Struggle for Black Priests, 1871–1960.
I also recently met an ex-Protestant pastor, who is considering conversion and who, as a black person, experienced some racism in his Catholic community. He felt that the folks in the parish he was involved with weren't particularly crazy about black people, were dismissive of him and almost gave him the impression that Catholicism wasn't for him. I was dismayed and of course we are going to keep in touch, because we don't want to lose this soul. An ex pastor is a gem of a convert who could do much good for the faith.
The last thing I want to say on this subject is that since I last wrote the article, I had an experience in a Traditional Catholic Facebook group, that left me with a bitter taste in my mouth. In that group, the members were discussing the "glories of slavery". Well, they didn't use that term, but they were basically analyzing if there were any benefits of black chattel slavery, aside from the obvious one of labor, and whether slavery was totally consistent with Catholicism. The consensus seemed to be moving in the direction that it was never so bad. I made known my displeasure but no one paid me any mind. Imagine how that got awkward really fast. I ended up leaving the group.
So, what has been your experience? Have you met the racist fringe?
Read Racism Among Traditional Catholics on Facebook – Say It Isn't So – Part I.
---
Further Reading
Racial Justice and the Catholic Church by Fr Bryan N. Massingale
Who Are You? What is Your Faith?: America's 21st Century Alt-Right and Catholic Social Doctrine
Desegregating the Altar: The Josephites and the Struggle for Black Priests, 1871–1960
Hey, are you on Facebook? Please join our nice little community on
Facebook: Beautysoancient.com.