Prayer for St. Michael's Protection Against Any Illness
Hey there! Some links on this page are affiliate links which means that, if you choose to make a purchase, we may earn a small commission at no extra cost to you. Thank you for supporting Beauty So Ancient, and Catholic businesses!
Although many know the Traditional St. Michael Prayer, not many know this prayer for "St. Michael's Protection Against Any Illness."
St Michael is known as the archangel who is the great protector of the Church, and the traditional St Michael the Archangel Prayer is recited at Masses all over the world.

We were pleasantly surprised to find this Prayer for St Michael's Protection Against Any Illness.
Sometimes, illness is sent to us for a purpose. Whenever we experience suffering of any kind, we should look for opportunities for sanctification, and a way for us to grow closer to our Lord.
However, the Church has a treasure-trove of prayers that we can pray whenever our bodies or minds are ill. Our Lord wants us to come to him for his need and his Saints and angels are great intercessors.
It is fitting that we should entrust our health to the intercession of St Michael, as he protects the members of the Church, in all things, and he is also very near to God.
We hope you will add this to your toolbox of prayers against illness.


---
Prayer for St. Michael's Protection Against Any Illness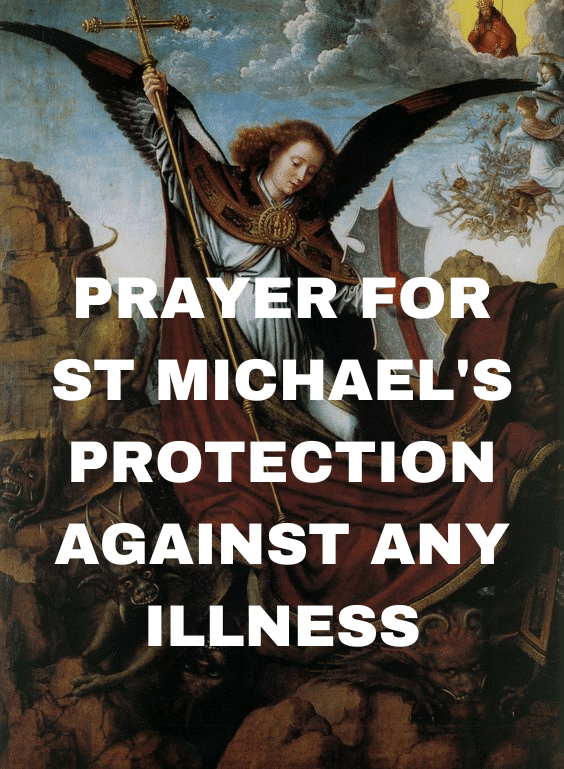 Michael, glorious Prince chief and champion of the heavenly host, guardian of the souls of men. conqueror of the rebel angels, steward of the palace of God, under Jesus Christ our worthy captain, endowed with superhuman excellence and virtue, vouchsafe to free us all from every ill, who with full confidence have recourse to you; and by your incomparable protection enable us to make progress each day in the faithful service of our God.
Amen
---
Resources
See Also