Prayer for a Deceased Priest
Hey there! Some links on this page are affiliate links which means that, if you choose to make a purchase, we may earn a small commission at no extra cost to you. Thank you for supporting Beauty So Ancient!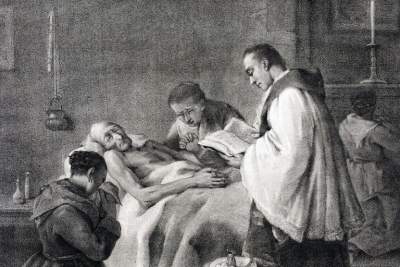 In your charity, please pray this prayer for a deceased priest, whenever possible.
There are many priests in purgatory and hell. We can't do anything for the ones in hell, but we can do a lot for the ones suffering in purgatory.
A priest devotes his whole life to helping his flock get to heaven, by offering the sacraments, praying for us daily through the Divine Office, and by counseling and teaching his flock.
In your charity, please pray this "prayer for a deceased priest" as often as you remember.
You might also consider praying a rosary at least once a year for priests.
God bless!
---
Prayer for a Deceased Priest
O God, Thou didst raise Thy servant, N.,
to the sacred priesthood of Jesus Christ,
according to the Order of Melchisedech,
giving him the sublime power
to offer the Eternal Sacrifice,
to bring the Body and Blood of Thy Son Jesus Christ down upon the altar,
and to absolve the sins of men in Thine own Holy Name.
We beseech Thee to reward his faithfulness
and to forget his faults,
admitting him speedily into Thy Holy Presence,
there to enjoy forever the recompense of his labours.
This we ask through Jesus Christ Thy Son, our Lord.
Amen.
---
Books on Priests/Monks