Cardinal Zen Arrested! Pray to Our Lady of China!
Hey there! Some links on this page are affiliate links which means that, if you choose to make a purchase, we may earn a small commission at no extra cost to you. Thank you for supporting Beauty So Ancient, and Catholic businesses!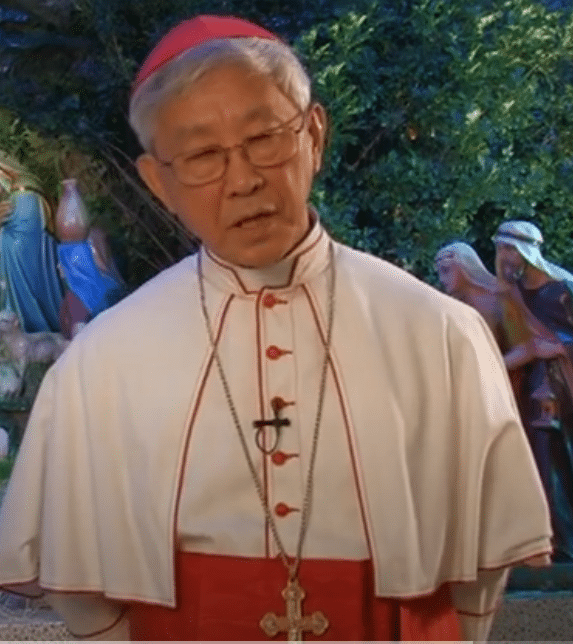 Hong Kong's National Security Police just arrested 90-year-old, persecuted Hong Kong Cardinal Zen, along with Margaret Ng Ngoi-yee, a former member of Hong Kong's Legislative Council, and Denise Ho Wan-sze, a popular singer.
All three were charged with colluding with foreign powers, under the terms of Hong Kong's National Security Law, which China enacted in 2020.
Cardinal Zen has been an outspoken critic of the persecution that Chinese Catholics experience in China. In an exclusive 2020 interview with Catholic Weekly, Zen said:
"They can have no longer have their churches, they can no more perform sacraments in private homes and the Vatican gives no more bishops to them," Cardinal Zen said.

"They are more officials of the government than shepherds of God's flock," he said.

"It is a terrible situation."

Catholic Weekly
When China introduced the National Security Law (NSL) in Hong Kong in 2020, the crackdown in Hong Kong began, and now they have arrested Cardinal Zen.
CNA reports that, "William Nee, research and advocacy coordinator of the group Chinese Human Rights Defenders, linked the arrests to the election of Hong Kong's new chief executive John Lee.
"The arrest of Cardinal Zen sends a chilling message for the prospects of freedom of religion in Hong Kong, and ironically proves that his warnings about the dangers of the CCP [Chinese Communist Party] were prophetic," he added.
The Vatican's Response to the Cardinal's arrest
The Vatican has been silent about the human rights violations in China. In 2020, Pope Francis renewed a 2018 accord that gave the Pope the power to veto Communist China appointed Catholic Bishops.

Cardinal Zen gave made a formal appeal to Pope Francis but was not able to meet with him.
In fact, China did not even stick to that deal. In 2020, right after the accord was renewed:
… in Jiangxi province, dissenting Catholic priests have been placed under house arrest, in breach of an agreement to protect clergy from coercion. Priests from Yujiang diocese, under surveillance, have been forbidden from "engaging in any religious activity in the capacity of clergy" after they refused to join the regime's so-called "patriotic church," and Bishop Lu Xinping was barred from celebrating Mass."

Foreign Policy
So far, the Vatican has not responsed to Cardinal Zen's arrest.
Prayer warriors, let us pray for this holy Cardinal. Our Lady of China pray for Cardinal Zen.

St Blaise, pray for Cardinal Zen.
---
See Also