Anima Christi Prayer in Latin & English – A Most Beautiful Communion Prayer
Hey there! Some links on this page are affiliate links which means that, if you choose to make a purchase, we may earn a small commission at no extra cost to you. Thank you for supporting Beauty So Ancient!

As much as we can, we will link to Catholic businesses. Thank you for supporting our brothers and sisters in the faith!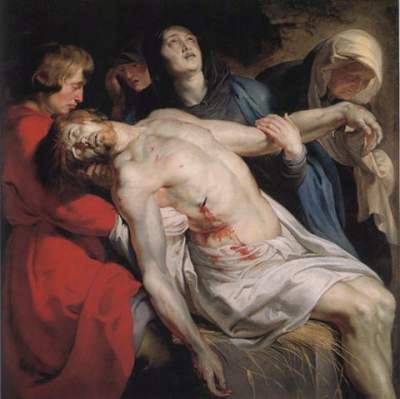 The Anima Christi in Latin, is probably a communion prayer you've heard at some point in your life, even if you find Latin to be intimidating. It is one of many communion prayers which reminds us of Christ's holy wounds that he sustained for us, out of His great love for us.
Who Wrote the Anima Christi Prayer?
The Latin version of the Anima Christi is attributed to a variety of authors. However, one thing is clear. It originated in the early 14th century. We know this because Pope John XXII enriched the prayer with indulgences in 1330. Some attribute this prayer to him.
However, the most common attribution is to Saint Ignatius of Loyola since it is included in his spiritual exercises. However this is obviously incorrect, as St Ignatius of Loyola, was born after Pope John XXII's indulgence, and it was also found in various earlier prayer books.
---
Anima Christ Prayer in Latin
Anima Christi, sanctifica me.
Corpus Christi, salva me.
Sanguis Christi, inebria me.
Aqua lateris Christi, lava me.
Passio Christi, conforta me.
O bone Iesu, exaudi me.
Intra tua vulnera absconde me.
Ne permittas me separari a te.
Ab hoste maligno defende me.
In hora mortis meae voca me.
Et iube me venire ad te,
Ut cum Sanctis tuis laudem te
in saecula saeculorum.
Amen.
---
Anima Christi in Latin Lyrics (Gregorian Chant)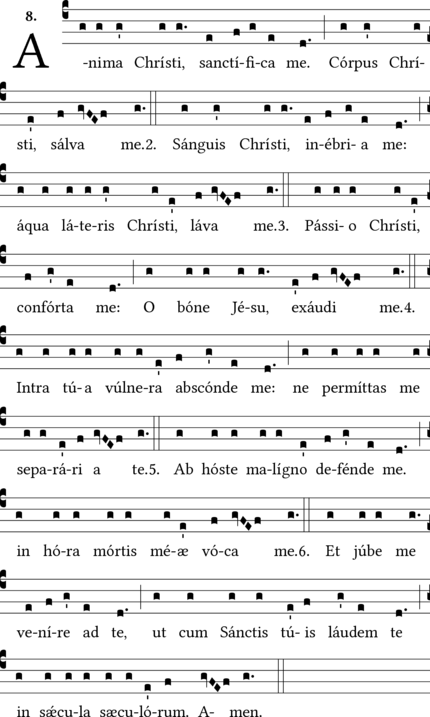 ---
Anima Christi Prayer in English
Soul of Christ, sanctify me
Body of Christ, save me
Blood of Christ, inebriate me
Water from Christ's side, wash me
Passion of Christ, strengthen me
O good Jesus, hear me
Within Thy wounds hide me
Suffer me not to be separated from Thee
From the malicious enemy defend me
In the hour of my death call me
And bid me come unto Thee
That I may praise Thee with Thy saints
and with Thy angels
Forever and ever.
Amen
---
Learn more about the wounds of Christ
---
Looking for more prayers? Check out the Pieta Prayer Book.
Watch it on YouTube
Here is another Gregorian Chant version of the Anima Christi in Latin.