47: DO YOU REFLECT ON YOUR DEATH? 3 REASONS WHY YOU SHOULD (Rigorous Lent )
Hey there! Some links on this page are affiliate links which means that, if you choose to make a purchase, we may earn a small commission at no extra cost to you. Thank you for supporting Beauty So Ancient!

As much as we can, we will link to Catholic businesses. Thank you for supporting our brothers and sisters in the faith!
During the imposition of the ashes we chant: "Let us change our garments, and cover ourselves with sackcloth and ashes; let us fast and weep. Ash Wednesday is a day of penance. After all, the Church requires that we both fast and abstain. It's also a day that we should remember our deaths. According to Divine Intimacy there are three reasons why we should reflect on our deaths:
We Have One Soul & One Death to Die
The book of Hebrews tells us that it is appointed unto man once to die and after this the judgment. We don't believe in reincarnation, do we? What this means it that we must prioritize the salvation of our souls over everything else, even the salvation of others.
Here's an analogy: When a flight attendant does safety training, he or she always says that if the oxygen masks drop, make sure that you put your mask on first, before helping anyone else with his mask. Because you can't help the child sitting next to you if you fall unconscious. You have to help yourself first.
In the same way, you can spend your whole life evangelizing, but you don't want to neglect your own soul and perish. God doesn't ask this of us.
We Must Remember our Deaths Because of the Brevity of our Lives
When I was a young teen, I couldn't wait to turn 18 to do what I wanted. It seemed to take forever for me to turn 18. The years moved at a very sluggish pace. As I get older, the years pass by in an instant.
Many are surprised when they lie in their deathbed. "How did I get here this fast," one might ask. Our lives are brief while the centuries move on.
Let us not say like St Augustine, "Lord, make me chaste, but not yet." We don't know how much time we have on this earth, but we know it is brief.
---
(Use coupon code BSA for 15% off selected TAN Books titles)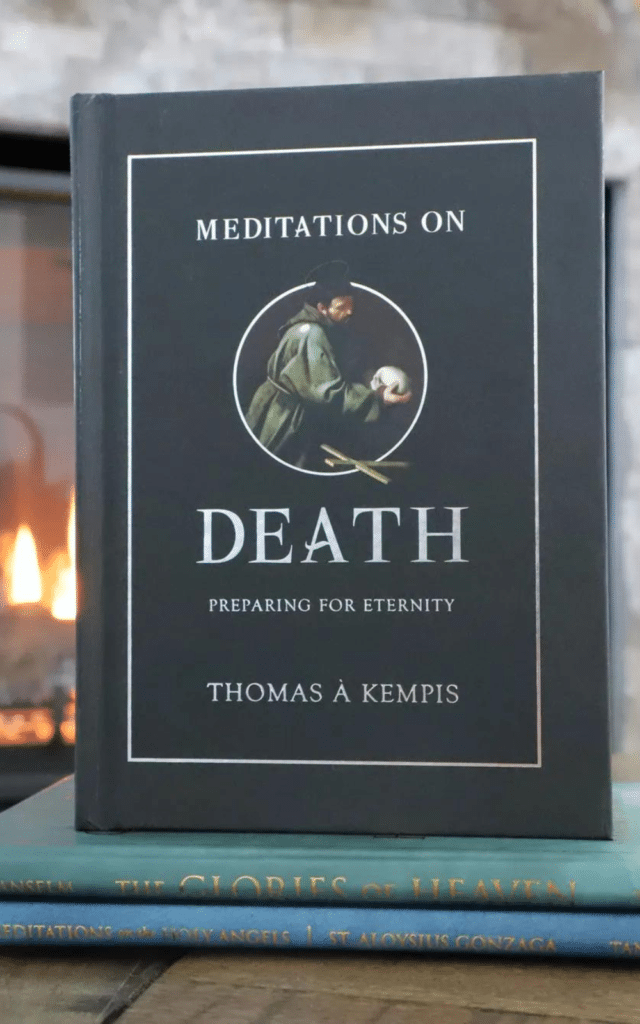 ---
All is Vanity
Every great man eventually lies in the dust. It doesn't matter how good looking you are, how big your house is, how many important people you know. All is vanity.

We must detach ourself from all things and all people, including our friends, spouses and children. That doesn't mean we don't love our families fiercely, but we acknoweledge they can be taken from us at any time. All belongs to God. We must seek God alone.
This Lent, let us always reflect on our deaths. Memento mori.
I leave you with a quote from Divine Intimacy.
"Dust, the ashes which the priest puts on our foreheads today, has no substance; the lightest breath will disperse it. It is a good representation of man's nothingness: "O Lord, my substance is as nothing before Thee" (Psalm 38:6), exclaims the Psalmist. Our pride, our arrogance, needs to grasp this truth, to realize that everything in us is nothing. Drawn from nothing by the creative power of God, by His infinite love which willed to communicate His being and His life to us, we cannot–because of sin–be reunited with Him for eternity without passing through the dark reality of death. The consequence and punishment of sin, death is, in itself, bitter and painful; but Jesus, who wanted to be like to us in all things, in submitting to death has given all Christians the strength to accept it out of love. Nevertheless, death exists, and we should reflect on it, not in order to distress ourselves, but to arouse ourselves to do good."

Divine Intimacy by Father Gabriel of Saint Mary Magdalen, O.C.D
Memento Mori/Purgatory Resources
Detachment Resources
---
Youtube