10 Prayers You Can Pray to Gain a Plenary or Partial Indulgence in 2023
Hey there! Some links on this page are affiliate links which means that, if you choose to make a purchase, we may earn a small commission at no extra cost to you. Thank you for supporting Beauty So Ancient, and Catholic businesses!
Did You Know That You Could Potentially Gain a Plenary or Partial Indulgence Today?
How would you like to gain a plenary or partial indulgence today? If we are more aware of these opportunities to gain more indulgences, we would mostly likely gain, as a side benefit, a more robust spiritual life and our actions would be more in alignment with God's will.
Did you know that many of the prayers that we pray almost by rote come with partial or plenary indulgences? How would it change your life to intentionally pray them to gain indulgences?
The Church, in her wisdom, in order to encourage us to pray more or engage in certain spiritual practices, have attached indulgences to certain prayers and/or spiritual practices.
Here are ten prayers and spiritual practices that have indulgences attached to them.
What is a Plenary Indulgence in the Catholic Church?
According to the Catechism of the Catholic Church (paragraph 1471), an indulgence (plenary or partial indulgence) is a
"remission before God of the temporal punishment due to sins whose guilt has already been forgiven, which the faithful Christian who is duly disposed gains under certain prescribed conditions through the action of the Church which, as the minister of redemption, dispenses and applies with authority the treasury of the satisfactions of Christ and the saints"
It is in our best interest to attempt to gain as many as these indulgences as possible.
Not only do we get the remission of all our sins, but by striving to gain these plenary or partial indulgences, we in fact align our wills more and more closely to our Lord.
Plenary Indulgence Requirements
GENERAL REQUIREMENTS FOR A PLENARY OR PARTIAL INDULGENCE
Must be Catholic and in a state of grace.
Must have the interior disposition of complete detachment from sin, even venial sin;
Must have confessed their sins through the sacrament of confession (not just in your heart), within 20 days before or after the indulgence date.
Must receive holy communion.
Must pray for the intentions of the Holy Father
If you have not completely fulfilled the requirements above but attempt to gain the indulgence, you probably gained a partial rather than a plenary indulgence.
Although there is a list of Plenary and Partial Indulgences, one of the more beautiful ones in my opinion is the one that you can gain at the moment of death.
Want to aim for a plenary indulgence? Here are 10 Prayers You Can Pray:
---
1) Adoration of the Blessed Sacrament (for at least 1/2 hour) – Plenary Indulgence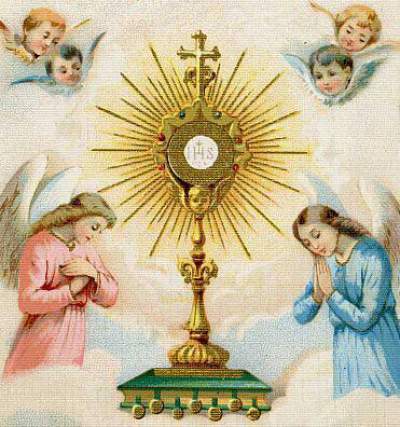 It is very hard to stay still in our modern world. We are overstimulated with all sorts of images and sounds. What a wonderful thing it is to adore our Lord in the Blessed Sacrament, silently.

While you're there, feel free to do an Act of Reparation to the Blessed Sacrament.
---
2) The Angelus – Partial Indulgence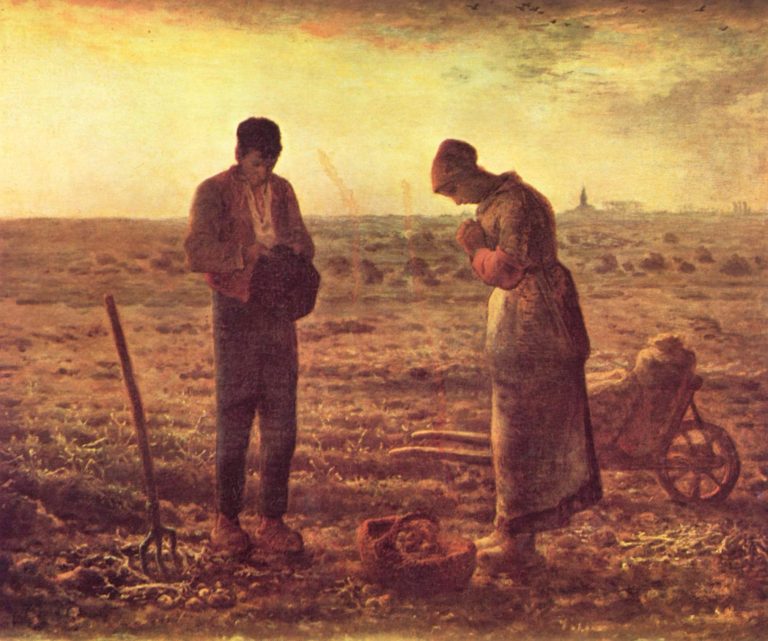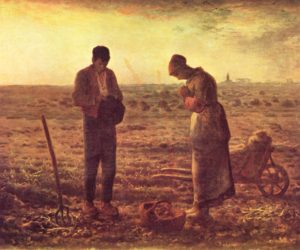 The Angelus is a prayer that is prayed at 6 AM, Noon, and 6 PM and helps us to recall the incarnation. We've all heard the churches ring the Angelus bells, but for some reason, it is not commonly prayed by many modern Catholics.
---
The Anima Christi is a beautiful communion prayer that comes with an indulgence.
Anima Christi, sanctifica me.
Corpus Christi, salva me.
Sanguis Christi, inebria me.
Aqua lateris Christi, lava me.
Passio Christi, conforta me.
O bone Iesu, exaudi me.
Intra tua vulnera absconde me.
Ne permittas me separari a te.
Ab hoste maligno defende me.
In hora mortis meae voca me.
Et iube me venire ad te,
Ut cum Sanctis tuis laudem te
in saecula saeculorum. Amen
Anima Christi – English
Soul of Christ, sanctify me.
Body of Christ, save me.
Blood of Christ, inebriate me.
Water from the side of Christ, wash me.
Passion of Christ, strengthen me.
O good Jesus, hear me.
Within Thy wounds, hide me.
Separated from Thee let me never be.
From the malignant enemy, defend me.
At the hour of death, call me.
To come to Thee, bid me,
That I may praise Thee in the company
Of Thy Saints, for all eternity. Amen
---
4) Credo (Apostles' Creed or the Nicene-Constantinopolitan Creed) – Partial Indulgence
Apostles Creed-Latin
Credo in Deum Patrem omnipotentem, Creatorem caeli et terrae. Et in Iesum Christum, Filium eius unicum, Dominum nostrum, qui conceptus est de Spiritu Sancto, natus ex Maria Virgine, passus sub Pontio Pilato, crucifixus, mortuus, et sepultus, descendit ad infernos, tertia die resurrexit a mortuis, ascendit ad caelos, sedet ad dexteram Dei Patris omnipotentis, inde venturus est iudicare vivos et mortuos. Credo in Spiritum Sanctum, sanctam Ecclesiam catholicam, sanctorum communionem, remissionem peccatorum, carnis resurrectionem, vitam aeternam. Amen.
Apostles Creed-English
I believe in God, the Father Almighty, Creator of Heaven and earth;
and in Jesus Christ, His only Son Our Lord,
Who was conceived by the Holy Spirit, born of the Virgin Mary, suffered under Pontius Pilate, was crucified, died, and was buried.
He descended into Hell; the third day He rose again from the dead;
He ascended into Heaven, and sitteth at the right hand of God, the Father almighty; from thence He shall come to judge the living and the dead.
I believe in the Holy Spirit, the holy Catholic Church, the communion of saints, the forgiveness of sins, the resurrection of the body and life everlasting.
Amen.
---
5) Hail Holy Queen (Salve Regina) – Partial Indulgence
Salve, Regina
Salve, Regina, mater misericordiae;
vita, dulcedo et spes nostra, salve.
Ad te clamamus exsules filii Hevae.
Ad te suspiramus gementes et flentes
in hac lacrimarum valle.
Eia ergo, advocata nostra,
illos tuos misericordes oculos ad nos converte.
Et Iesum, benedictum fructum ventris tui,
nobis post hoc exsilium ostende.
O clemens, o pia, o dulcis Virgo Maria.
V. Ora pro nobis, sancta Dei Genitrix.
R. Ut digni efficamur promissionibus Christi.
Oremus. Omnipotens sempiterne Deus, qui gloriosae Virginis Matris Mariae corpus et animam, ut dignum Filii tui habitaculum effici mereretur, Spiritu Sancto cooperante, praeparasti, da, ut cuius commemoratione laetamur; eius pia intercessione, ab instantibus malis et a morte perpetua liberemur. Per eundem Christum Dominum nostrum. Amen.
Hail Holy Queen
Hail, holy Queen, Mother of mercy, our life, our sweetness and our hope. To thee do we cry, poor banished children of Eve. To thee to we send up our sighs, mourning and weeping in this valley of tears. Turn, then, most gracious advocate, thine eyes of mercy toward us, and after this, our exile, show unto us the blessed fruit of thy womb, Jesus. O clement, O loving, O sweet Virgin Mary.
V. Pray for us, O holy Mother of God.
R. That we may be made worthy of the promises of Christ.
Let us pray. Almighty and everlasting God, Who by the working of the Holy Spirit didst prepare both body and soul of the glorious Virgin Mother, Mary, that she might deserve to be made a worthy dwelling for Thy Son, grant that we who rejoice in her memory, may, by her loving intercession, be delivered from present evils and from lasting death, through the same Christ our Lord. Amen.
---
6) The Memorae – Partial Indulgence
The Memorae in Latin
Memorae, O piissima Virgo Maria, non esse auditum a saeculo, quemquam ad tua currentem praesidia, tua implorantem auxilia, tua petentem suffragia, esse derelictum. Ego tali animatus confidentia, ad te, Virgo Virginum, Mater, curro, ad te venio, coram te gemens peccator assisto. Noli, Mater Verbi, verba mea despicere; sed audi propitia et exaudi. Amen.
The Memorae in English
Remember, O most gracious Virgin Mary, that never was it known that anyone who fled to thy protection, implored thy help, or sought thy intercession was left unaided. Inspired with this confidence, I fly to thee, O Virgin of virgins, my Mother; to thee do I come; before thee I stand, sinful and sorrowful. O Mother of the Word Incarnate, despise not my petitions, but in thy mercy hear and answer me. Amen.
---
7) Reading of Sacred Scripture in a reverent manner for 1/2 hour – Plenary Indulgence (partial indulgence for less than 1/2 hour)
Some of us who are not used to reading scripture outside of Mass, might find it a chore to read scripture. However, you could gain a plenary indulgence by just reading scripture – which we should all be doing anyway.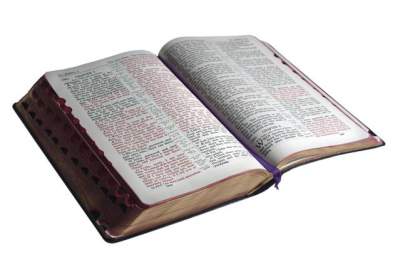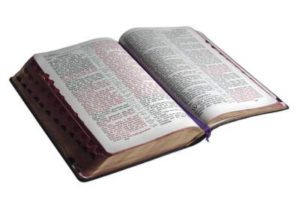 ---
8) Regina Caeli (During Paschal season) – Partial Indulgence
Regina Caeli (Latin)
V. Regina caeli, laetare, alleluia.
R. Quia quem meruisti portare, alleluia.
V. Resurrexit, sicut dixit, alleluia.
R. Ora pro nobis Deum, alleluia.
V. Gaude et laetare, Virgo Maria, alleluia.
R. Quia surrexit Dominus vere, alleluia.
Oremus. Deus, qui per resurrectionem Filii tui, Domini nostri Iesu Christi, mundum laetificare dignatus es: praesta, quaesumus; ut per eius Genetricem Virginem Mariam, perpetuae capiamus gaudia vitae. Per eundem Christum Dominum nostrum. Amen.

Regina Caeli in English (Queen of Heaven)
V. Queen of Heaven, rejoice, alleluia.
R. For He whom you did merit to bear, alleluia.
V. Has risen, as he said, alleluia.
R. Pray for us to God, alleluia.
V. Rejoice and be glad, O Virgin Mary, alleluia.
R. For the Lord has truly risen, alleluia.
Let us pray. O God, who gave joy to the world through the resurrection of Thy Son, our Lord Jesus Christ, grant we beseech Thee, that through the intercession of the Virgin Mary, His Mother, we may obtain the joys of everlasting life. Through the same Christ our Lord. Amen.
---
9) The Rosary (recitation of 5 decades of the Rosary) – Plenary Indulgence
You can gain a plenary indulgence by reciting 5 decades of the Rosary.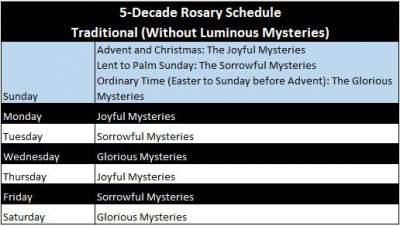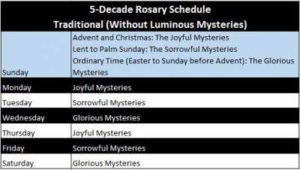 More on how to pray the rosary.
10) The Pious Exercise of the Way of the Cross – Plenary Indulgence
You can get an indulgence by praying the Stations of the Cross, also called the Way of the Cross.
More on how to pray the Way of the Cross.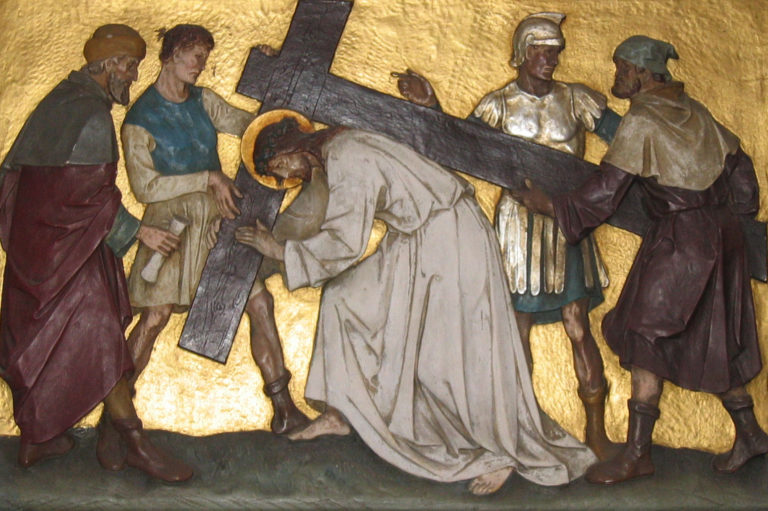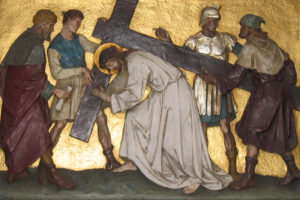 So now that you know you can gain a plenary or partial indulgence through common prayers, go out and get some.
God bless!
---
Resources
Want to find a comprehensive list of current indulgences? Check out the Manual of Indulgences.
---
See Also