Prayer When Unable to Assist at Daily Mass
Hey there! Some links on this page are affiliate links which means that, if you choose to make a purchase, we may earn a small commission at no extra cost to you. Thank you for supporting Beauty So Ancient, and Catholic businesses!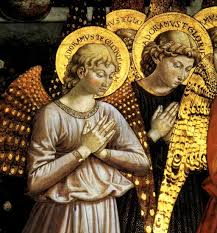 Some of us would love to assist at daily Mass, but are unable to because of a variety of reasons, including illness and Covid-19 lockdown.
If you can't get to daily Mass for whatever reason, there are prayers you can pray to help you persevere in your spiritual life. One is a devotion called the "Dry Mass." Another is the Prayer for the Grace for all the world's Masses.
The Prayer When Unable to Assist at Daily Mass, is a great prayer for daily Mass attendees to pray when they cannot assist daily Mass.
---
Prayer When Unable to Assist at Daily Mass
Go, my Angel Guardian dear,
To church for me, —–the Mass to hear.
Go, kneel devoutly at my place
And treasure for me every grace.
At the Offertory time
Please offer me to God Divine.
All I have and all I am,
Present it with the Precious Lamb.
Adore for me the great Oblation.
Pray for all I hold most dear
Be they far or be they near.
Remember too, my own dear dead
For whom Christ's Precious Blood was shed.
And at Communion bring to me
Christ's Flesh and Blood, my food to be.
To give me strength and holy grace
A pledge to see Him face to face
And when the Holy Mass is done
Then with His blessing, come back home.
---
Unlimited Reading, Unlimited Devices
---
Love the Latin Mass & Tradition? You'll Love These
How to Follow the Mass
---
Enjoy listening to books? Try Audible.
---