Mother Teresa Should Not Have Been Declared a Saint?
Hey there! Some links on this page are affiliate links which means that, if you choose to make a purchase, we may earn a small commission at no extra cost to you. Thank you for supporting Beauty So Ancient, and Catholic businesses!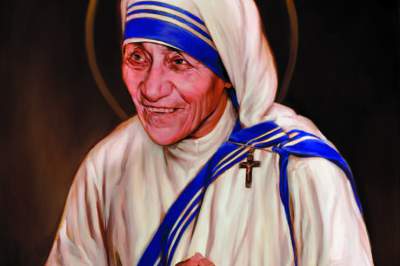 2019 update: I wrote this article a few years ago and although there is no longer the uproar at her canonization, I still occasionally see some skepticism and comments stating that Mother Teresa should not have been declared a Saint.
Nothing is more frustrating to me these days than seeing the constant posts and commentary against the canonization of Mother Teresa of Calcutta. Are there people who seriously believe that Mother Teresa should not have been declared a Saint? On what authority is this determination made?
In this audio, I explain why we need to focus on other things – not whether she should have been canonized or not.
Mother Teresa, born Agnes Bojaxhiu in Albania, was a nun who devoted her life to serving the sick and suffering in India. Mother Teresa's life changed when she received a "call within a call".
"For years, Mother Teresa refused to talk about this seminal moment in her life. But worldwide interest in her "call within a call" would not diminish. Reluctantly, she spoke about it. "God was calling me to give up all and to surrender myself to him in the service of the poorest of the poor in the slums."
The call happened on September 10, 1946, as she traveled by train from Calcutta to Darjeeling. Suddenly, a new mission presented itself. "To fail would have been to break the faith," she said."
She spent her life working with the "undesirables": the poor, the orphans and the helpers. Here is a good site if you'd like to learn more about her.

Canonization Objection: She Did Not Evangelize Those She Served
There is a quote that is being passed around where Mother Teresa says:
"There is only one God and He is God to all; therefore it is important that everyone is seen as equal before God. Ive always said that we should help a Hindu become a better Hindu, a Muslim become a better Muslim, a Catholic become a better Catholic."
Some say that makes her a relativist, but did it occur to anyone that she was working in an environment that was often hostile to Christians? In fact, the government of India accused her of prosyletizing under the guise of helping the poor. Maybe she said that so that everyone would be comfortable coming to her for help. I don't know. However, these other two quotes convince me that was, in fact, sharing the good news of the Gospel of Jesus Christ.
"When we do 'our work,' visiting the families, teaching the children, nursing the sick, helping the dying, gathering the little children for church, we should do it with one aim in view: 'the salvation of the poor.' We want to bring them to Jesus and bring Jesus to them."
"We have to carry our Lord to places where he has not walked before. Therefore the sisters must be consumed with one desire: Jesus. Speak of no one but him crucified. We must not be afraid to do the things he did – to go fearless thoroughly death and danger with him and for him."
Mother Teresa left behind a CATHOLIC order of almost 5,000 sisters in fact – sisters who are continuing to shine a light on Catholic religious orders and our faith.
The fact is the canonization has been completed. We need to focus on saving our souls and that of our families instead of debating whether the Church erred in declaring Mother Teresa a Saint.
We need to focus on becoming saints ourselves!
What do you think of this debate?
This article and audio were originally published in 2016.
---
More on Mother Teresa