Love Catholic Liturgical Calendars? Check Out the 2016 Dominican Rite Calendar
Hey there! Some links on this page are affiliate links which means that, if you choose to make a purchase, we may earn a small commission at no extra cost to you. Thank you for supporting Beauty So Ancient, and Catholic businesses!
I am sharing this exciting post from the Brevarium S.O.P. blog.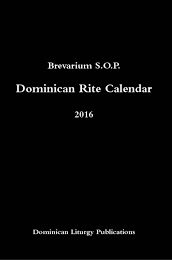 . The creator of the blog is a traditional third-order Dominican, and the blog focuses on the Traditional Dominican Rite & breviary. Have you ever seen a Catholic liturgical calendar that is a Dominican Rite calendar?
What is the Dominican Rite?
The Dominican rite is a very unique rite of the Roman Catholic Church, which was adopted in the mid thirteenth century. It has it's own breviary and missal, which also means it has it's own liturgical calendar.
From the Brevarium S.O.P. blog:
"Just in time for Christmas! I am pleased to announce the completion of my 2016 Dominican Rite Calendar, for praying the 1962 Dominican Breviary. The Calendar is now available from Fr. Augustine Thompson's "Dominican Liturgy Publications" at Lulu.
New additions this year are the traditional prayers for a General Chapter, since the Order will be conducting a Chapter in Bologna in 2016. The calendar includes the dates that the prayers are to be said, as well as notations that indicate the 15 Tuesdays devotion to Our Holy Father St. Dominic.
The calendar is based on the Dominican Rite Liturgical Calendar that Fr. Augustine Thompson, O.P. prepares every year. The format is similar to that of the Ordo published by the Priestly Fraternity of St. Peter for the Extraordinary Form of the Roman Rite. The calendar contains the entire liturgical year, according to the 1962 Breviarii Iuxta Ritum Ordinis Preædicatorum, updated with the most recent canonizations of Dominican saints."
Please browse this beautiful calendar here: Dominican Rite Calendar.
St Dominic, pray for us.