The Priestly Celibacy Loophole – A Former Priest Speaks on the Catholic Priesthood's Homosexual Subculture
Hey there! Some links on this page are affiliate links which means that, if you choose to make a purchase, we may earn a small commission at no extra cost to you. Thank you for supporting Beauty So Ancient, and Catholic businesses!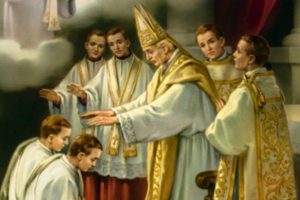 Roman Manchester, a former priest in the Providence of Rhode Island, speaks about priestly celibacy & the pervasive homosexual subculture within the priesthood.

It turns out that for some, priestly celibacy is a joke and they believe they've found a loophole.
The Priestly Celibacy Loophole
"I'm going to let you all in on a little secret. I call it 'the loophole.' "
There is a blatant double standard in the priesthood when it comes to the requirement of celibacy. Popes John Paul II, Benedict XVI, and Francis have tried to close that loophole by banning homosexuals from the priesthood, but they have not had much success due to the lack of cooperation by the American bishops. The loophole is this: Technically, celibacy is not connected with chastity.
Celibacy is ONLY the requirement to abstain from marriage and/or any activity that could lead to having children. At least that's how the gay clergy see it, and that definition would be sufficient under the assumption that we have a heterosexual priesthood. However, homosexual priests found a glorious loophole in that definition of celibacy. Since gays can't get married as a point of Natural Law and Church teaching, and since homosexual sodomy cannot lead to having babies, then CONCLUSION homosexuality is perfectly consistent with a celibate vocation because it demands nothing of them. This is why our current Pope and his two immediate predecessors issued bans on homosexuals being admitted to the seminary. It was not because they hated gays, but rather because it is simply impossible for a homosexual to make the sacrifice of celibacy."
---
Priestly Celibacy is a Sacrifice
Celibacy made the transition from sacrifice to gift as a result of the homosexual infiltration of the Church…
In my 20 years as a priest, deacon, and seminarian, I had never heard celibacy referred to as a sacrifice until Pope John Paul II issued his ban on gays in the seminary during my final year of seminary. When I heard those words, it was like a light went on over my head. I thought to myself, "That's exactly what it is! Celibacy is my sacrifice for the Church!" You see, up until that point, celibacy had always been spoken of as a "gift." We had all been brainwashed into believing that celibacy was some great gift given by God to the Church, and this, of course, is how the gay clergy see it. It may be a gift for them, but it is a sacrifice for the rest of us.
The idea of celibacy as gift was always a hard sell for me. In my gut I always knew it was a sacrifice, and I frequently made the joke among friends that if celibacy was a gift, then it was like getting socks for Christmas when you were a kid. You know, like Ralphie from Christmas Story. He was opening up that box really hoping for that Red Rider BB Gun, but wound up with a crappy pink bunny outfit that his aunt made for him. If celibacy is a gift then it is that pink bunny outfit. Of course, celibacy made the transition from sacrifice to gift as a result of the homosexual infiltration of the Church. The ancients always saw it as the sacrifice that Christ demanded of his priests.
It's time for celibacy to resume such status."
---
The Pervasive Homosexual Subculture
"Before I begin, I should make it understood that I can only speak of my own experience in the priesthood and/or of things that are a matter of public record. I cannot speak of things that did not directly involve me. Even though I have knowledge of certain events, discussion of such things would only be hearsay and gossip. I will also try to remain vague enough so as to protect the innocent.
"We need soldiers, not wallflowers."
I remember giving a homily at my home parish about 8 years ago. It did not go over well, and word of it made it back to the Chancery. Many people were up in arms that I had spoken in such a frank and direct manner about the problems facing the Church. I was filling in for the pastor at the parish in which I grew up, and it turned out to be the last time I was ever invited to celebrate Mass there with the exception of a funeral for a family member a few years later.
It was Vocations Sunday, and the homily was supposed to be one that encouraged vocations to the priesthood. Nevertheless, I had already been exposed to the seedy underside of the priesthood, and did not feel that I could encourage young men to consider a vocation to the priesthood without full knowledge of what they were getting themselves into.
In my homily I basically said that the priesthood is a noble vocation in need to good men, and I still believe that. However, I also told them that we need soldiers, not wall-flowers. This is a time for soldiers, not diplomats, because there is a war going on inside the Church for the soul of the priesthood – a war that the laity, for the most part, do not know is happening, do not want to know is happening, and do not get to witness first-hand. I then told them that there was a pervasive homosexual subculture within the priesthood that has taken over the positions of leadership. They recruit seminarians who are like themselves and discourage heterosexual men from entering.
"He was concerned that my heterosexuality would be an obstacle to my celibacy."
Back when I was applying to the seminary, I distinctly remember the vocations recruiter at that time questioning my fitness for the priesthood. This was the vocation recruiter, not the vocation director. The vocations director was actually very supportive. The particular issue that concerned the recruiter, however, was an item that I had discussed in my autobiography. I spoke about my dating history, and he was concerned about my attraction to women. He was concerned that my heterosexuality would be an obstacle to my celibacy. I did not think it odd at the time, but looking back, that should have been my first red flag. I was very naive back then.
So, I told the people about all of this in my homily. I told them about the gay subculture and how young men would be introduced to it very early in their seminary careers, and they would have two options – join it or fight it. I believed in my heart that they had to know what they were going to encounter BEFORE they entered the seminary. I was not going to sell them a bill of goods. I was not going to be like the Army recruiter who tells a young man what he wants to hear just so he will sign the contract. When I was in Air Force basic training back in 1993, the most common complaint from all the men was, "My recruiter lied to me."
I was not going to be that guy.
If a young man wants to enter the priesthood, he should know that he is volunteering for war – spiritual war, and there is a chance he will become a casualty of that war. Many men never make it out of seminary, and they needed to know that. Also, I thought that if I told them the truth that I might get a more positive response. Knowing young men the way I do, I realize that they are more likely to respond to a call to arms than they are to a limp-wristed call to the "gift of celibacy."
If they only knew that the Church was under attack from the inside, they would be mobilized to storm the gates to fight and defend, because that is what men do. My voice, however, was met with howls of indignation from a very loud minority. Word got around the diocese quickly as I received phone calls and emails from brother priests who had heard about the homily all around the state.
Although I was never contacted or reprimanded by the Chancery, I strongly suspect that a note of the complaints was added to my personnel file. The personnel file, by the way, is like the Bishop's version of the files that J. Edgar Hoover kept on all of his friends and enemies. It is not a file that I have ever been allowed to see, and God only know what is in it – God and the Bishop, that is.
One funny story I tell people, and I believe I told it to the people in my homily that day….
When I entered the seminary at Seton Hall, I was part of a large class that made up about half the seminary student body. We were a very masculine group. We organized a flag-football team, a basketball team, and a field hockey team to compete in the University's intramural leagues. It was the first time the seminary ever participated in Seton Hall's athletic leagues, and we dominated in flag-football and basketball much to the surprise of everybody. Nobody thought the old men could beat the kids, but we did. One day, I came back to the seminary after a football game, and I was covered in mud, and blood, and sweat. I wanted to get back to my room to shower, but when I entered the elevator, one of the retired 80-something year old monsignors entered with me. He was dressed in his good suit, looking like he had just come back from somewhere important. I apologized to him for my appearance. I said, "I'm sorry for my appearance, Monsignor, but I just came from the football game." Monsignor looked at me and said in his typical low, gruff voice, "Roman, it's good to see real men in the seminary again." That said just about everything."
---
***The above exerpts on the priestly celibacy loop were first posted on social media and are reprinted here with the express permission of Rev. Roman Manchester.***
This article was published in 2018. Minor edits to the formatting were made in 2020.
---
Resources