11 Inspirational Quotes by Bernadette de Soubirous
Hey there! Some links on this page are affiliate links which means that, if you choose to make a purchase, we may earn a small commission at no extra cost to you. Thank you for supporting Beauty So Ancient, and Catholic businesses!
These inspirational quotes by Bernadette de Soubirous will inspire humility and a great desire to become a Saint!

From February 11- July 16, 1858, a 14-year old French, undeducated young lady, was sent to fetch some firewood.
Accompanied by her friend and sister, they arrived at the grotto of Massabielle, where she had a vision of a "beautiful lady."
No one else saw these visions. These visions continued until July 16, 1858 ,and the apparation of our Lady, came to be known as "Our Lady of Lourdes."
Even though St. Bernadette had those apparitions, she did not see herself as a Saint. There is much we can emulate when it comes to her humility.
After the apparitions ended, she lived a hidden life and embraced the cross.
May these quotes inspire us also to embrace our cross and do God's will.

---
St. Bernadette de Soubirous Quotes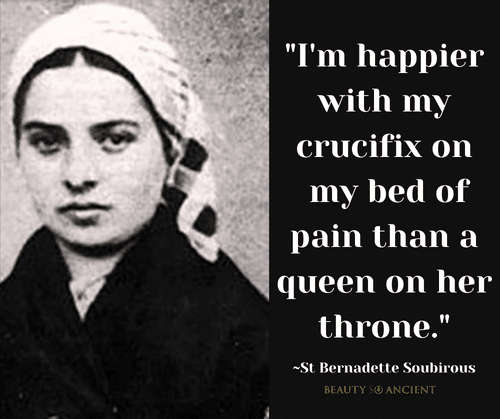 "Why must we suffer? Because here below pure Love cannot exist without suffering. O Jesus, Jesus, I no longer feel my cross when I think of yours."

~St. Bernadette Soubirous
"It is loving the Cross that one finds one heart, for Divine Love cannot live without suffering."

~St. Bernadette Soubirous
"My hope is in you, Lord. Be my refuge, for You are my strength…. Into Your hands, Lord, I commend my spirit. You have redeemed me, Lord, God of Truth."

~St. Bernadette Soubirous
Purple Cameo Lourdes Water Rosary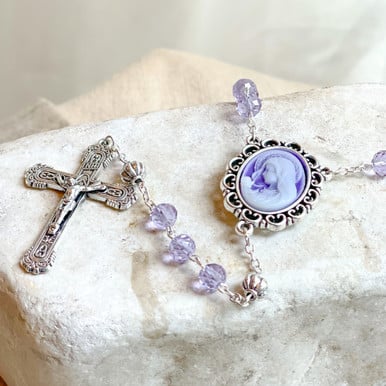 "O Jesus, I would rather die a thousand deaths than be unfaithful to you!"

~St. Bernadette Soubirous
"From this moment on, anything concerning me is no longer of any interest to me. I must belong entirely to God and God alone. Never to myself."

~St. Bernadette Soubirous
"The Blessed Virgin used me like a broom. What do you do with a broom when you have finished sweeping? You put it back in its place, behind the door!

~St. Bernadette Soubirous
"O Jesus and Mary, let my entire consolation in this world be to love you and to suffer for sinners"

~St. Bernadette Soubirous
"Oh my Mother, to you I sacrifice all other attachments so that my heart may belong entirely to you and to my Jesus."

~St. Bernadette Soubirous
"I must die to myself continually and accept trials without complaining. I work, I suffer and I love with no other witness than his heart. Anyone who is not prepared to suffer all for the Beloved and to do his will in all things is not worthy of the sweet name of Friend, for here below, Love without suffering does not exist."

~St. Bernadette Soubirous
"They think I'm a saint… When I'm dead, they'll come and touch holy pictures and rosaries to me, and all the while I'll be getting broiled on a grill in purgatory. At least promise me you'll pray a lot for the repose of my soul."

~St. Bernadette Soubirous
"What will be the crown of those who, humble within and humiliated without, have imitated the humility of our Saviour in all its fullness!"

~St. Anthony the Great
---
Books on Our Lady of Lourdes & St. Bernadette Soubirous
---
Our Lady of Lourdes 24″ Statue