6 Excuses American Catholic Women Use Not to Veil
Hey there! Some links on this page are affiliate links which means that, if you choose to make a purchase, we may earn a small commission at no extra cost to you. Thank you for supporting Beauty So Ancient!

As much as we can, we will link to Catholic businesses. Thank you for supporting our brothers and sisters in the faith!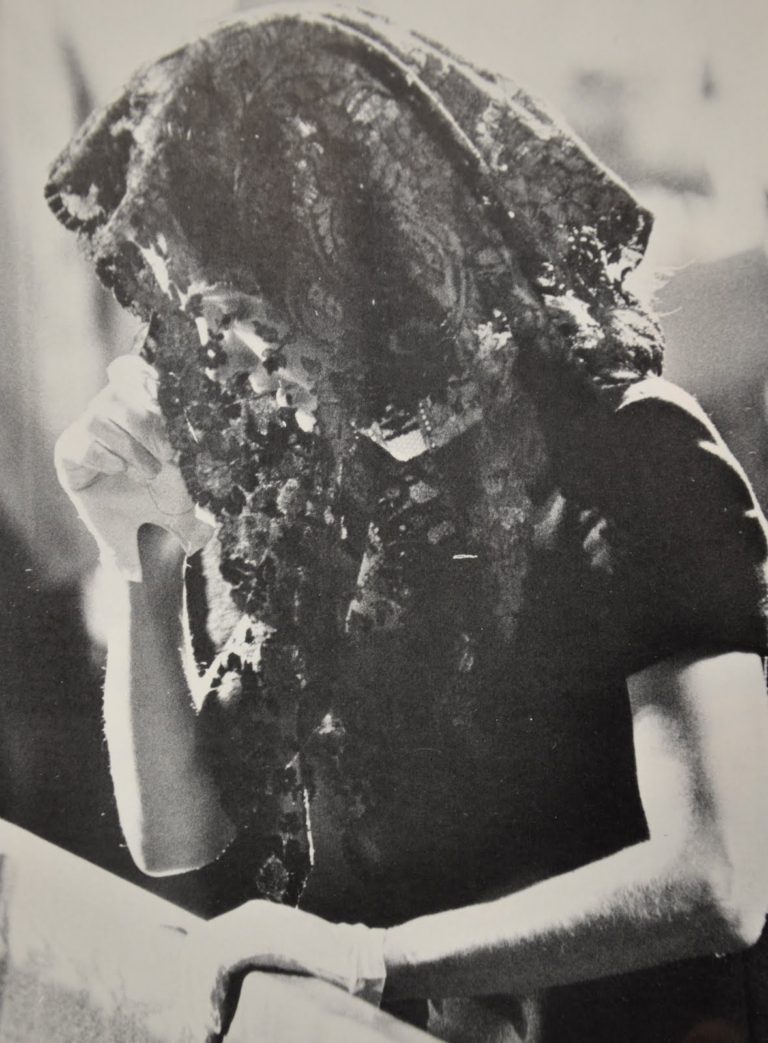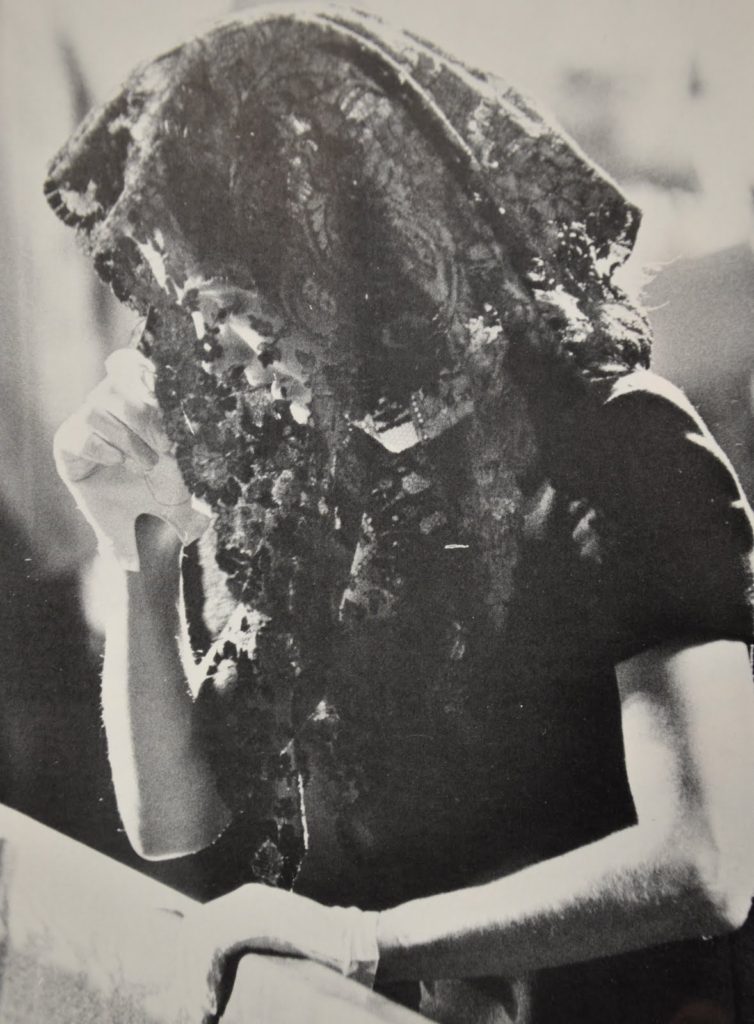 When Catholics refer to 'veiling', they simply mean a woman's act of covering her head during Mass. Often it refers to using a mantilla or chapel veil, but it can also mean wearing a hat.
The current 1983 Code of Canon law, which contains the law of the Catholic Church, does not mention veiling, unlike it's predecessor, the 1917 Canon. With a misplaced, new sense of freedom, many women threw away their mantillas.
Time is funny. What is out of vogue, becomes fashionable again. And so, the mantilla is back in style, especially in ladies who attend the Latin Mass.
Of course we don't wear mantillas as a fashion item, but since mantillas are back in style, it means there are more retailers selling them, and so they're easier to find.

So, why do Catholic women wear mantillas?
2018 Poll on Catholic Veiling
BeautySoAncient.com polled a mall sample of 72 women in a traditional Catholic Facebook group and asked why they veil. Here are the results.
37% – out of reverence for the blessed sacrament
21% – it is Catholic tradition
18% – as a symbol of modesty
18% – the Church veils things that are sacred
7% – veiling is a sign of subjection to men (husband)
1% – as a remedy against vanity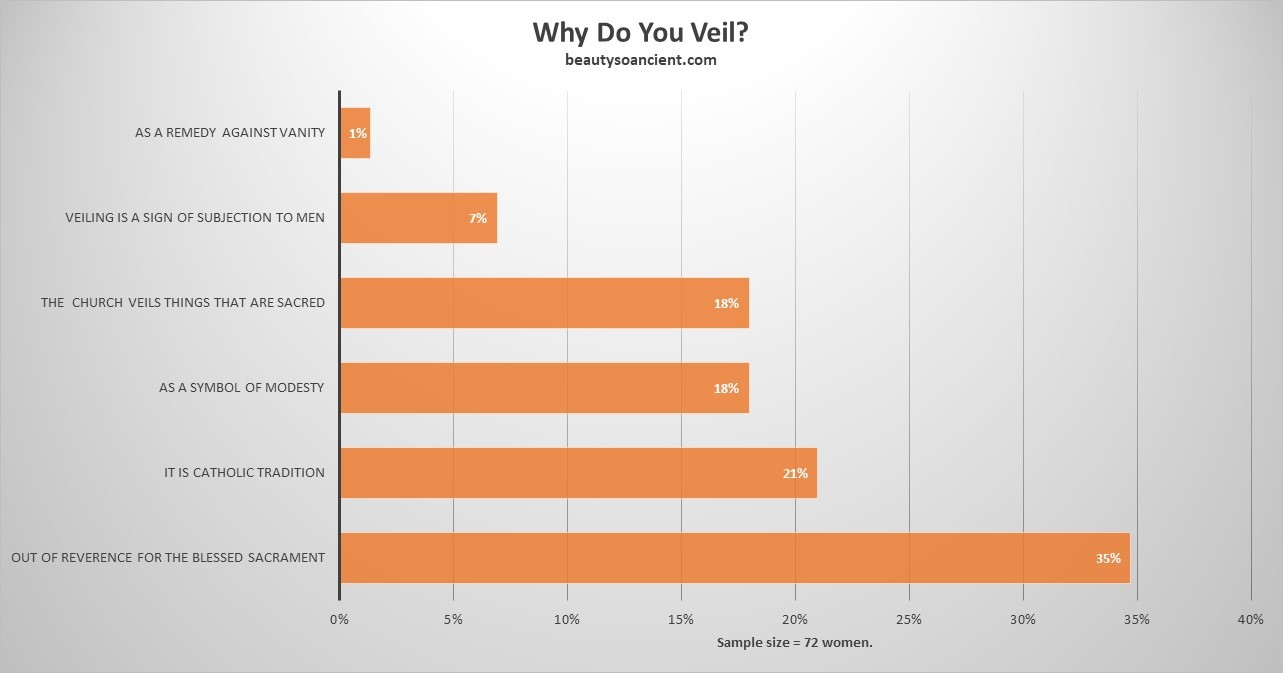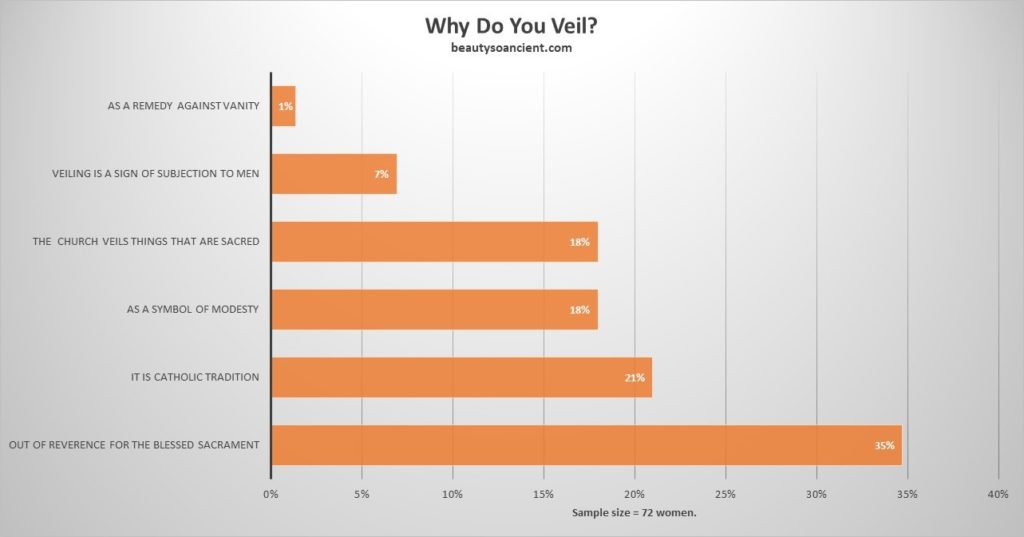 These days, some Catholic women are curious about veiling, while others have no desire to veil. It is almost as if they are afraid that they will go backward and prefer a progressive direction in the Church and Mass. However, some women are still resistant and I find that there are 6 main excuses women use not to veil.
In speaking to women, we found 3 Reasons women use not to veil.
---
1) Only Spaniards Wear Mantillas
It is true that before Jackie Kennedy, American Catholic women were used to covering their heads with hats. Jackie brought back the mantilla and American Women fell in love with them.
So although these mantillas were very popular in Spain, American Catholic women adopted it as part of their culture as well.
Either way, you don't have to wear a mantilla. You can wear a hat.
Let me point out that in some circles, wearing a mantilla is considered to be more holy or more traditional than a hat. Don't let anyone deceive you. As long as your head is covered, you're good.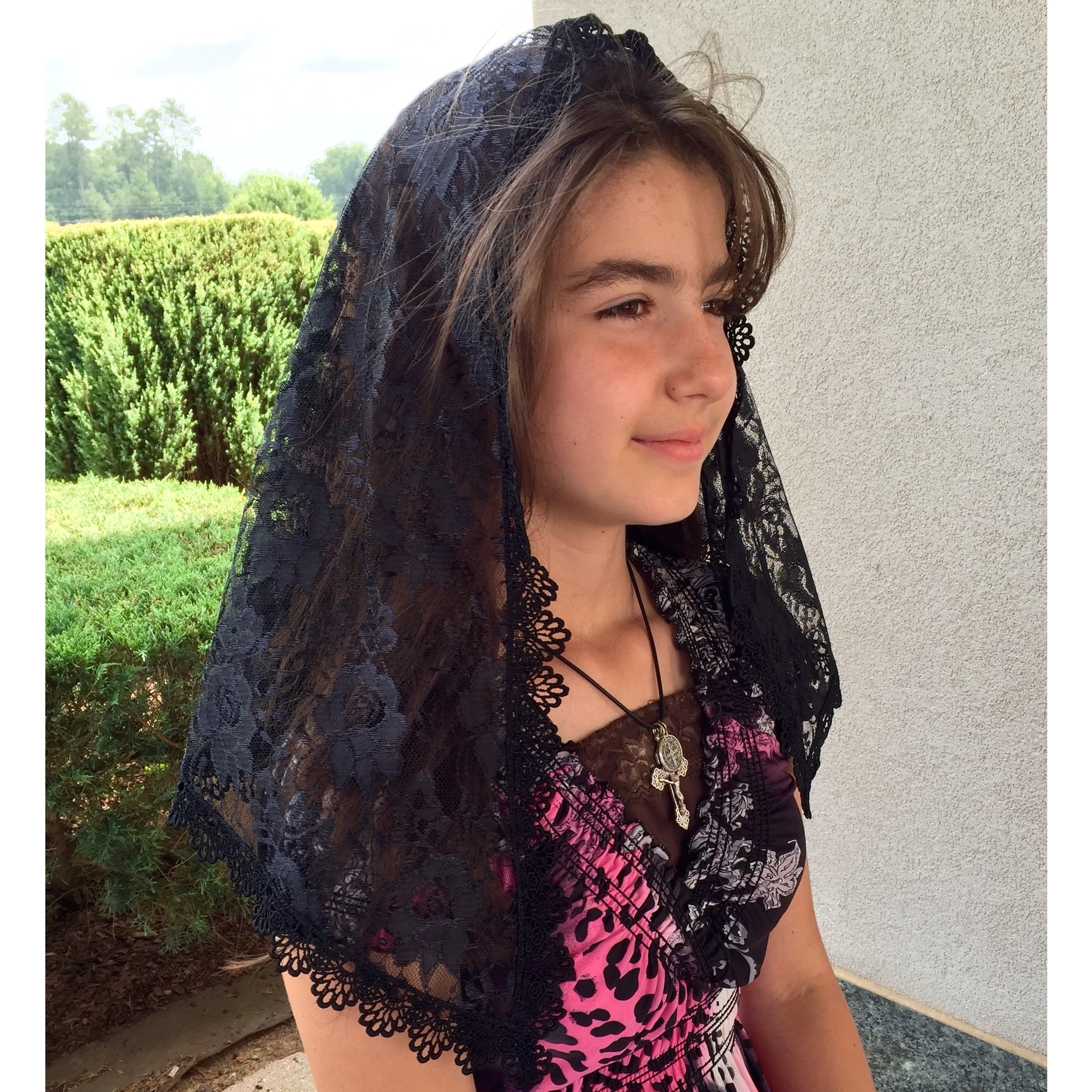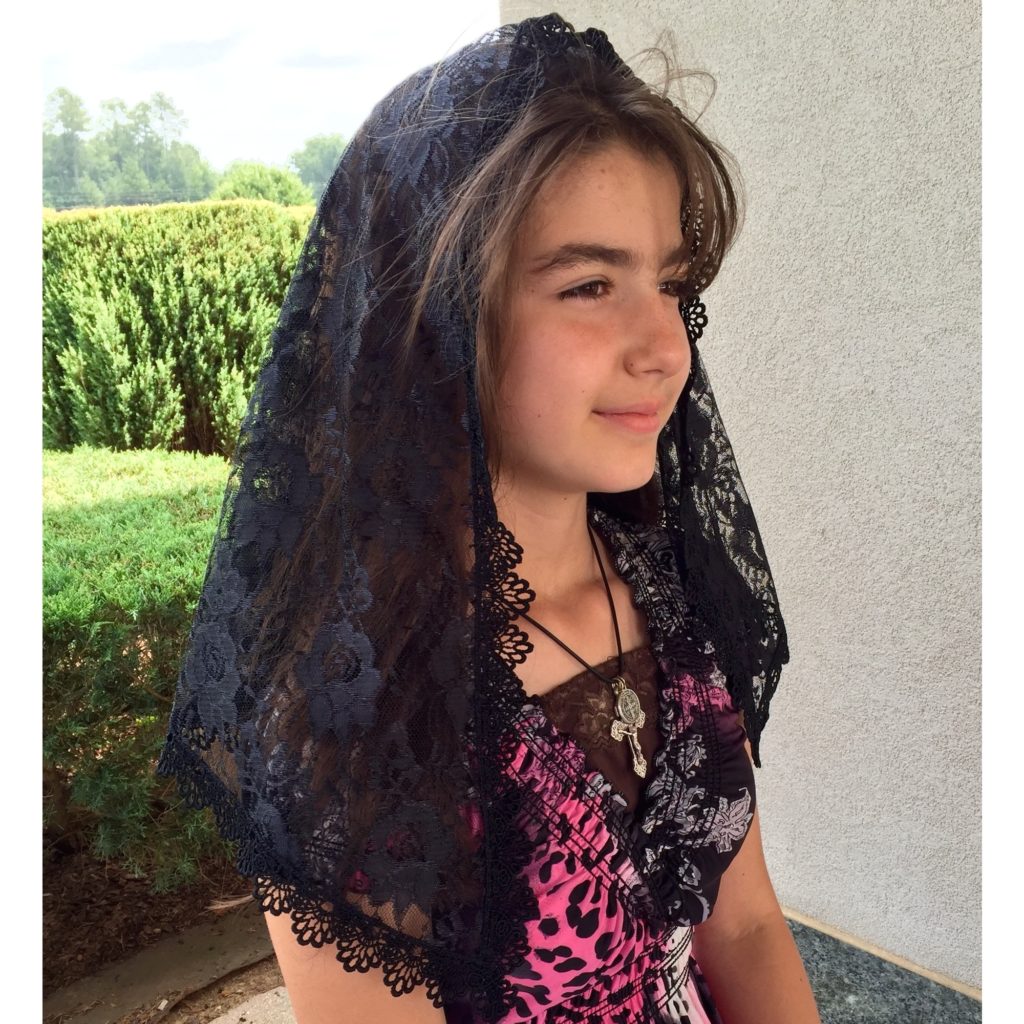 2) I Look Horrible with a Mantilla
Not everyone looks like a mantilla model.
I'm sure everyone has seen the pictures of the pretty 20-something year-olds on the trad net. It is as if everyone who wears a mantillas is in their 20's.
Unfortunately, or fortunately (depending on how you look at it), everyone does not look like a mantilla model.
Isn't that the point?
Our focus, during Mass, should be on the holy sacrifice of the Mass itself, not on our looks. The same reason that you don't not want to veil is exactly the reason why you should. It's not about you!
Having said that, I'm going to say that all women look beautiful in their mantillas, but it's a spiritual beauty – the best kind.
3) If I Wear a Mantilla at the Novus Ordo (Ordinary Form) Mass, I will Bring Attention to Myself
Here we have reverse modesty. " If I wear something modest, I'm not actually modest am I?
I wonder sometimes if anyone really means this.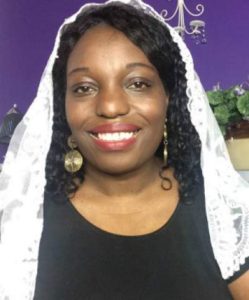 It is true that sometimes dressing over the top actually brings more attention to yourself. It's like you're saying, "Look at me… I'm so modest"!
A perfect example of this is those who dress like they're on a "Little House On the Prairie" set. The dress is so outlandish, it actually brings attention to the women.
However, wearing a mantilla or hat is a tradition of the Catholic Church. It is no longer required (more on that in the next section) but it is not forbidden either.
4) We No Longer Have to Veil According to the Code of Canon Law
It is true that the 1983 Code of Canon Law doesn't mention veiling. In response to a question about whether women are required to wear mantillas at a Traditional Latin Mass, Raymond Cardinal Burke responded:
"The wearing of a chapel veil for women is not required when women assist at the Holy Mass according to the Ordinary Form of the Roman Rite. It is, however, the expectation that women who assist at the Mass according to the Extraordinary Form cover their heads, as was the practice at the time that the 1962 Missale Romanum was in force. It is not, however, a sin to participate in the Holy Mass according to the Extraordinary Form without a veil."

Source.
Let me paraphrase.
Wear a mantilla anywhere you want, but if you attend a traditional Latin Mass regularly (I'm not speaking to visitors), please wear a mantilla. It is expected!
I am often shocked at the number of uncovered heads I find at even traditional parishes!
5) St Paul was a Misogynist. Why Should I listen to him?
Some Catholic women have a problem with St Paul's views on submissiveness and the role of the woman in regard to her husband. 1 Corinthian 11: 3-5 particularly is troublesome to those who consider St Paul to be a misogynist.
"But I would have you know, that the head of every man is Christ; and the head of the woman is the man; and the head of Christ is God. Every man praying or prophesying with his head covered, disgraceth his head. But every woman praying or prophesying with her head not covered, disgraceth her head: for it is all one as if she were shaven."

Source.
I just want to point out that covering one's head does not demean a woman. It elevates her. She is precious and she should be veiled.
St Paul is one of the most important figures in the history of the Church. He should not be dismissed so easily.
It is true that the head of a wife is her husband. Scripture says so.
In this modern time there has been a move from teaching wifely submission to teaching that husband and wife are to submit to one another. Although it is true that husband and wife are to submit to one another and, in fact, Catholic brethren should submit to one another, there is a specific admonition that wives submit to their husbands.
Catholic women all over the world continue to cover their heads during Mass, especially Eastern Catholics.
Are we more enlightened than they are?
***If you are a seller of veils, email me for possible inclusion on this list.***
I hope I've done a good job of debunking the 6 excuses American woman use to not veil. Let me know if I haven't or if you agree or disagree.
Now, why not try veiling?
6) I don't have a "Catholic veil" and I don't know where to get one?
This last excuse is somewhat legitimate. I noticed there are plenty of articles on veiling, but not enough actually point the readers to where to get these veils. You can get them at your parish or online. Online stores offer more diverse options.

One does not have to wear a traditional mantilla as a Catholic veil. Any head covering can be used including scarves, hats & mantillas.
---
Below you'll find a variety of places where you can buy a mantilla. I've purchased many a mantilla from Amazon, surprisingly. The Catholic Company also has some beautiful mantillas, plus they're Catholic, which is a plus!

There are also lots of Mompreneurs who sell mantillas and they usually market on social media
Buy Mantillas from Amazon or the Catholic Company
Latest posts by Cynthia Burley
(see all)
---
Veiling Resources